Joining the Hunsley Family – Your child's Reception place
Welcome to our Early Years Foundation Stage page, especially for our new September 2021class! We are very excited to think that you would like your child to join us at Hunsley Primary – they will be the 7th class to join the school and make us – officially – complete – a very important year all round!
New exciting transition event – Virtual story time sessions. An opportunity for the children to watch and listen to the Early Years team sharing favourite stories! Watch this space for further information.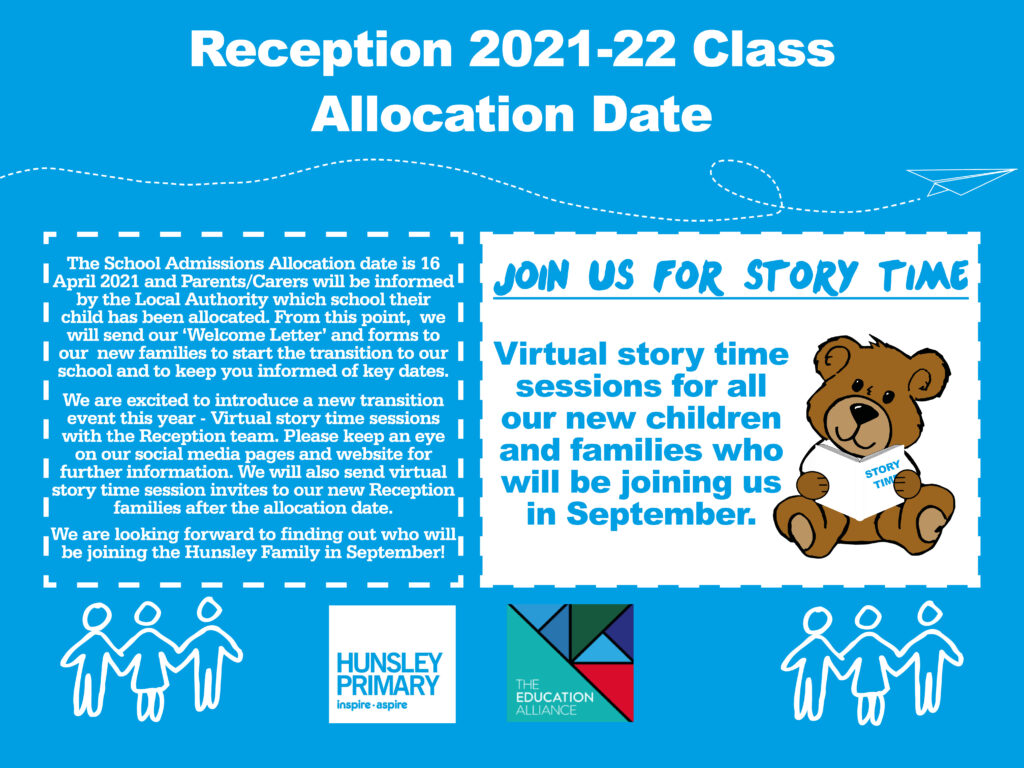 For more information on applying for a place at Hunsley Primary, please visit our admissions page.

We think Hunsley Primary brings something special – we are the first and only free school in East Yorkshire, offering an exciting curriculum experience to all our children as they begin their journey through education. Our school ethos is built on principles of partnership, high aspiration and enjoyment of learning, nurturing the individual and their own unique potential within the team.
When you join Hunsley Primary, you also join a fantastic family of schools working together as part of The Education Alliance. Click to find out more.
For a short video about our Trust schools, follow this link too: Trust Schools.
Our Reception Class – Early Years Foundation Stage (EYFS)
Below, you will find further information about our Reception class, useful links and resources for starting school and slideshow insights into our school activities and spaces.
Welcome To Our EYFS
Before your child starts school - Information and resources
Useful Links and Resources
Our hands-on learning experiences…
Our Reception learning areas…