Hunsley Primary celebrated at high profile House of Lords reception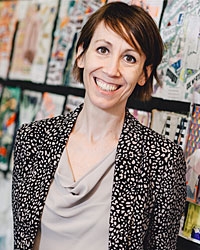 The headteacher of an innovative new East Riding primary school has just returned from a visit to the House of Lords to celebrate all the new free schools opening across England this September.
Lucy Hudson, of Hunsley Primary, which is set to open its doors for the first time in September, enjoyed afternoon tea with other headteachers from across the UK at the event held earlier this week.
The event saw Schools Minister Lord Nash speak at the event, when he congratulated the new school leaders on their achievements. The event was hosted by The Lord Popat of Harrow and organised by national education charity, New Schools Network, which provides advice and support to groups wanting to set up free schools.
Hunsley Primary, which will open to reception aged pupils this year, will encourage children to learn through discovery and exploration to develop new skills, knowledge and understanding as part of its scientific, enquiry-based approach to teaching. The school will provide 210 places for children in East Yorkshire and will offer pupils a stimulating, engaging and exciting learning experience. Pupils will take part in hands-on scientific learning activities which are rarely seen in a primary setting and have access to the most up to date wireless technologies to help them generate a lifelong love of learning, enquiry and discovery.
Lucy Hudson, headteacher of Hunsley Primary said: "It was an honour to attend the House of Lords in recognition of Hunsley Primary's achievements so far. Our pre-opening plans are proceeding well and I am extremely excited about opening our doors to pupils for the very first time this Autumn.
"Our reception class will be the first to experience our exciting and engaging scientific approach to learning which will not only teach them everything they need to know to excel through their school life, but also provide them with experiences which will develop vital skills and better prepare them for life in a rapidly developing world.
"Every school day will inspire and motivate our pupils and make them excited to come to school."
Lord Nash, speaking at the event, said: "There can't be anything more important, particularly at this time in our country, than to be involved in helping in education to improve the life chances of our young people. Nothing can be so vital for the success of our economy and our future, so thank you. I haven't myself been involved in anything in my entire career as rewarding as being involved in the academy and free schools movement.
"The free schools programme has been highly successful – a quarter of free schools have been judged as Outstanding at their first Ofsted. In the last five years we've opened 254 free schools, 43 of which have been special or AP schools."
Sarah Pearson, interim director of New Schools Network, said: "Hunsley Primary will be one of around 50 new schools opening this September. Opening a new school is a tough challenge, as it should be, so it is an incredible achievement and I wholeheartedly congratulate them on their forthcoming opening. They will join more than 250 free schools already open across England and, with more than 100 more approved to open in the coming years, this school will contribute to creating 230,000 much needed new school places."
The Lord Popat of Harrow, also speaking at the event, said: "There's nothing more important than education for children, and the work you've all done to improve education in this country is invaluable. It may not have always been easy, but today is one small way we can say thank you for all the hard work you have done."